Real trees are great and JB Tree Farm has a HUGE selection!
Real trees help the environment and make a great natural addition to your Christmas celebration. Coming here for your tree can be an all-day activity, or a quick stop. You can either explore our fields and cut your own tree, or choose from a wide selection of pre-cut and ball-and-burlapped trees.
Hours: beginning Thanksgiving Friday, November 24, 2023
Monday through Saturday: 9am - 6pm. Fields close at dusk. Last field entry at 4:45.
Sunday: 11am - 6pm. Fields close at dusk. Last field entry at 4:45.
Christmas Trees
Cut your own trees:
Cut-your-own trees are $68.99 plus tax. If paying with cash: $66.04 plus tax ($70).
Concolor fir are $78.99 plus tax. Cash price $75.47 plus tax ($80)
| Firs | |
| --- | --- |
| Douglas fir | Fraser Fir |
| Concolor fir | Balsam Fir |
| Spruce | |
| --- | --- |
| Blue Spruce | Engelmann Spruce |
back to top
Pre-cut
For those who don't care to cut a tree, we provide a convenient selection of fresh, pre-cut trees in many varieties and sizes, including trees 10 feet and over. Prices for pre-cut trees are by the foot. The following list provides the approximate price of pre-cut trees before tax. While the fields close at 4:45, the Pre-Cut lot stays open with the shop til 6:00pm.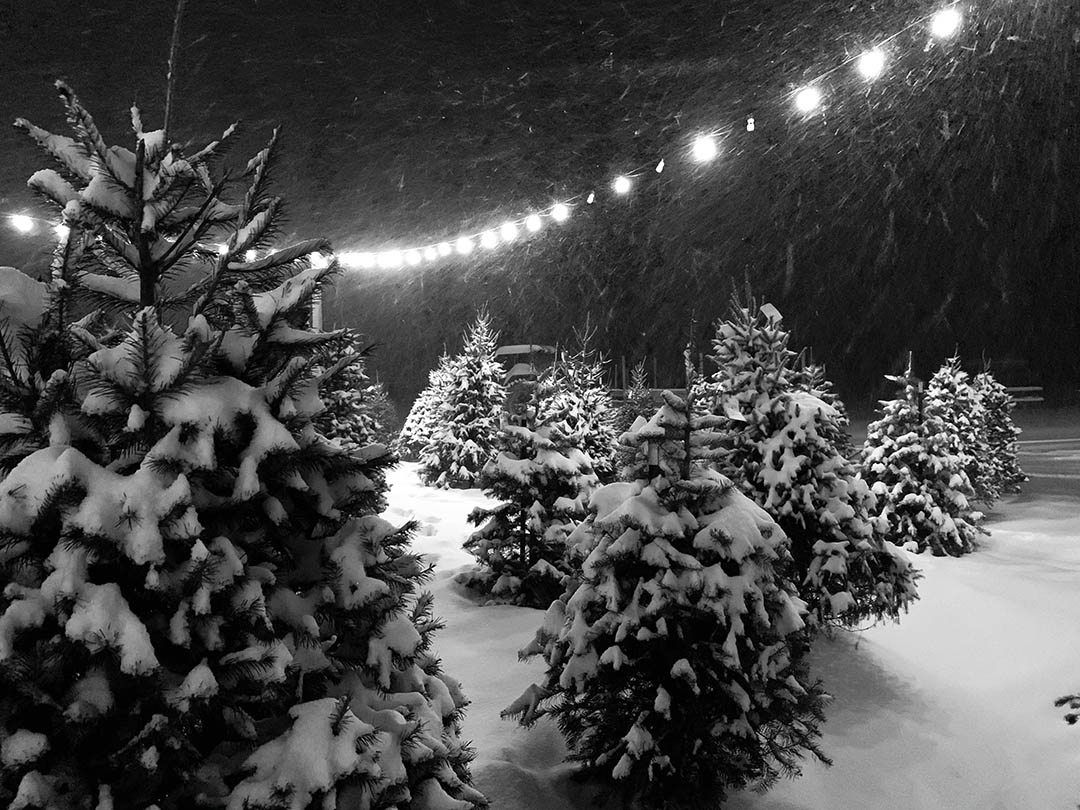 Ball-and-Burlap: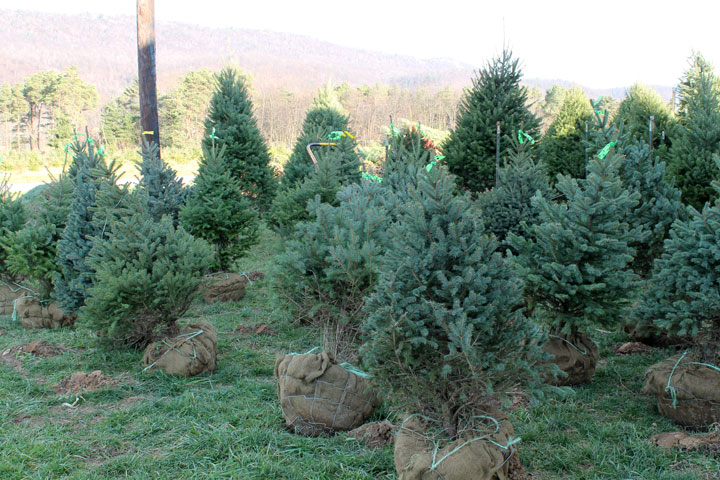 Looking for a tree you can plant after Christmas and enjoy for years to come? Ask at the shop about Ball-and-Burlap trees. You can select the tree and we'll dig it for you. Note: Live trees should only be kept indoors for 7 - 10 days.
Tips on preparing for your tree farm experience:
Bundle up! It's almost always colder and windier here on the top of the hill than it is in urban areas.
Wear comfortable walking shoes if you plan to choose and cut your own tree.
Even if the weather is warm, gloves may be helpful when cutting and carrying your tree from the field.
Although we have saws available, requiring a deposit, feel free to bring your own.
back to top
Christmas Shop
While visiting the tree farm, be sure to check out our Christmas Shop for all your decorating needs. We use homegrown flowers in all our dried creations and fresh greens for wreaths, garland, and centerpieces.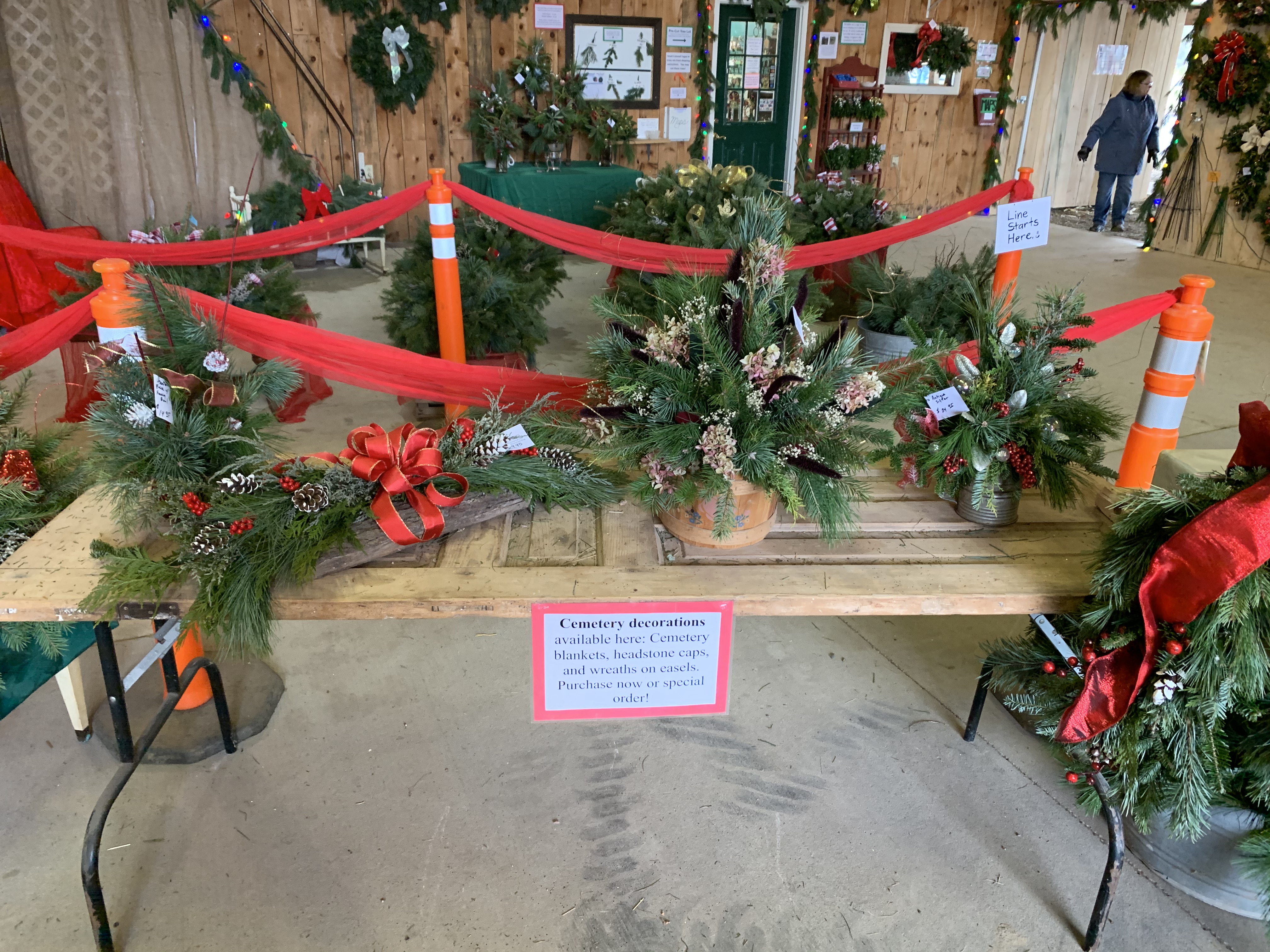 We offer:
Uniquely decorated swags and wreaths in sizes from 8" to 60"
Cemetery blankets and wreaths
Beautiful white pine and mixed garland
Centerpieces: ready to go or made to order
Unique ornaments on theme trees and an assortment of locally made crafts
Coffee, hot chocolate, hot dogs, candy bars
Much, much more!!
Other Products and Services:
Visit with our Nigerian Dwarf Goats
Free baling and shaking, drilling on request, and superior tree stands
Wagon rides every day to transport you to the fields and back to the Christmas shop
Open daily Thanksgiving Friday until Christmas Eve. Fields close at 4:45.
Saws available (deposit required)
Restrooms (handicap accessible)
back to top