Fall Frenzy Days
Fall weekends are the perfect time to bring the whole family to the farm when the autumn landscape is ablaze with God's masterful handiwork. Have a leisurely day enjoying family-oriented activities and make a visit to JB Tree Farm Fall Frenzy Days a traditional part of your fall celebrations!
We will be open weekends and weekday afternoons beginning Friday, September 20 until October 27. Groups interested in a private party or school group tour, please call for availability at 814-832-3430 or 888-826-9928 or email party@jbtreefarm.com. For more details on parties or more information about group discounts, visit our Parties and Tours page, here.
HOURS
Monday - Thursday: noon - 5pm
Friday: noon - 10pm
Saturday: noon - 10pm
Sunday: noon - 7pm
Strawberry Picking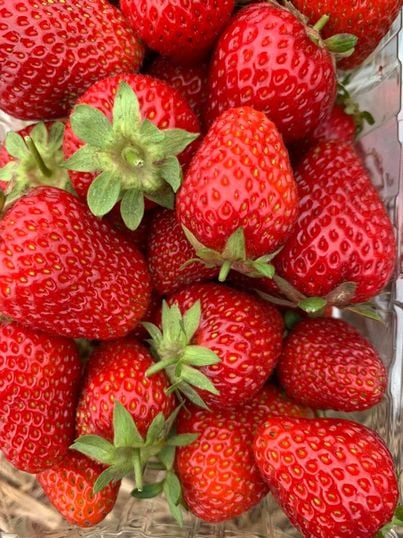 Starting in late August, we will have delicious, plump strawberries: ripe and ready for picking. Why buy strawberries imported from California or Mexico when you can purchase quality strawberries from a local, trusted farm? We take great care in growing these strawberries ourselves to provide you with quality produce at a reasonable price. Strawberries are pick-your-own at $2.49 a pound or pre-picked at $4.95 a quart (please order pre-picked at least a day in advance). Strawberries will be available for picking into October, until a hard frost. Updates on the strawberry patch will be posted to our Facebook page.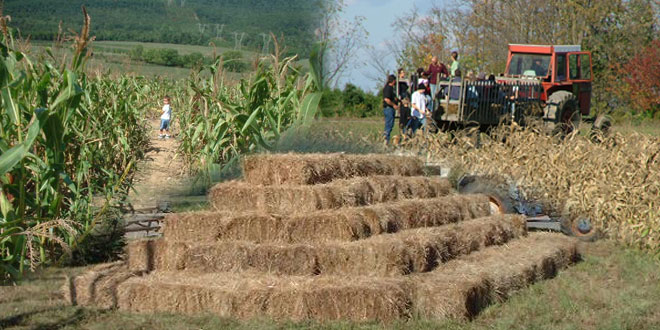 Unlimited access to the Corn Maze, Hayride, and Play Area, just $9.00 for adults and $6.00 for children ages 4-9!
This year we will be continuing with the wristband system. One wristband will get paying customers in the Corn Maze, on the Hayride, and the Play area for one flat, all-inclusive price of $9.00 per adult, or $6.00 for children ages 4-9. You simply have to present your wristband (on your wrist) at the entrance to these three areas. All other areas will be open to the general public like before. Hayrides and maze are free for children 3 and under.
Corn Maze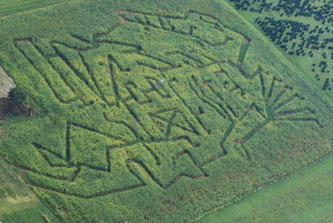 Test your sense of direction in our 5-acre Corn Maze. Navigating the Corn Maze can take you anywhere from 45 minutes to two hours. We create a new design every year for the maze, so you'll never walk the same path from year to year. Should you need assistance in finding the exit, our friendly employees are happy to assist you. You can also call our Gift Shop (814-832-3430) and we can contact one of the workers to find you, or someone from your party. Our maze is wide enough to accommodate strollers and wheelchairs.
The Maze Game
Our Maze Game, should you choose to accept the challenge, involves finding different shaped hole-punches hidden in the maze. When you come to one of the stakes holding the hole-punches, use it to punch the corresponding shape in the Game Card. Collect all the shapes and find your way to the EXIT of the Corn Maze where you can claim your prize at the counter or the pumpkin weigh station. One Game Card per person with a wristband. While you are allowed to enter the maze as many times as you want with your wristband, you will only receive one Game Card.
The theme for our 2013 Maze is missions. This year the maze design is a London double decker bus. A percentage of our 2013 maze proceeds will be given to help mission needs for the US and abroad.
MOONLIGHT MAZES!!
Nighttime maze tours and hayrides are open until 10 pm. Our late hours on Fridays and Saturdays are the perfect opportunity to test your navigation skills by touring our maze at night. No scares included! Bring an operating flashlight for this activity or purchase one here; we also have batteries available. A bonfire, s'mores, and hot dogs will be available for weenie roasting!
Maze Changes
The Maze Game Card will be available at the entrance to the Corn Maze for those who wish to play. You may go through the Maze as many times as you want with your wristband, but you can only get ONE Game Card. You cannot re-enter the Maze through the exit, you must return to the entrance. This includes taking the Card back through the Maze; simply take your Card back through the entrance, not the exit.
back to top
Hayrides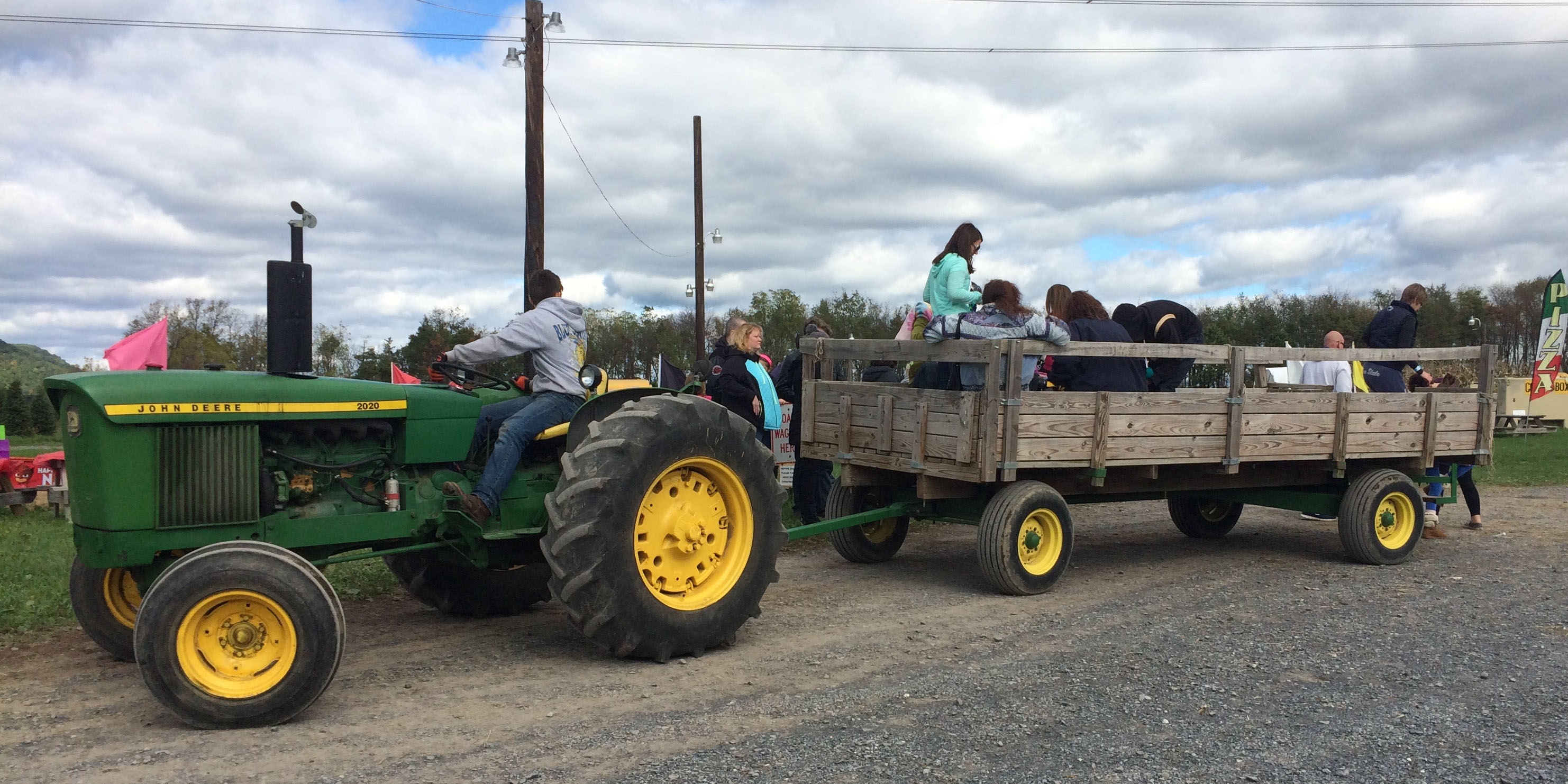 Enjoy God's creation as you take a relaxing ride on one of our wagons. Tour the fields of Christmas trees from the comfort of the Hayride and catch a glimpse of our cows and their offspring, and possibly other wildlife. Admission to the Hayride is included in the wristband price. You can ride as many times as you want with the wristband. Please remember to be courteous to other customers by leaving the wagon at the end of your ride and go to the end of the line (if there is one, if not, feel free to stay on).
Harvest Play Area
Our Play Area is new and improved this year! We are renovating the hay pyramid; it now includes tunnels and rooms big enough that even mom and dad can enter with their children. A school bus and a rocket plane for climbing and sliding have joined the Play Area this year. Play Area also includes a wooden train, playhouse, swings, beanbag toss, boat, and more.
Pumpkin Slingshot!
This year, customers can come sling pumpkins or apples at fun targets! This is not included with the wristband. Those who wish to test their aim with our pumpkins will pay $2 for 3 shots, or $5 for 10 shots. Prizes can be won for hitting the target on the fly!
Pumpkins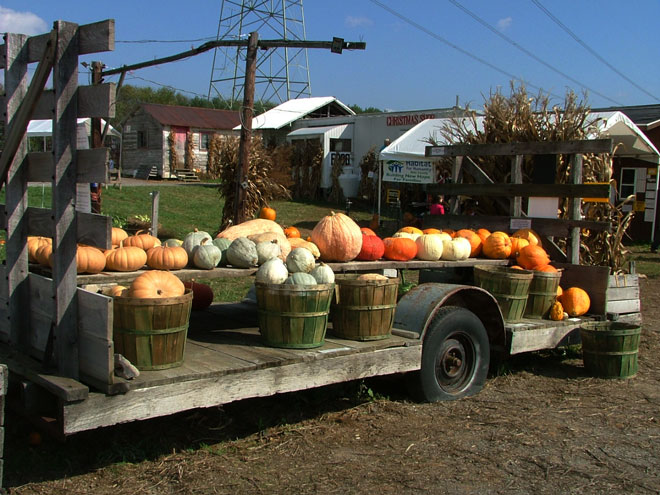 Pick your perfect pumpkin from our HUGE pumpkin patch! We also have small pumpkins, gorgeous gourds, colorful delicious squash, and hardshell gourds. We provide wagons for you in which to wheel your pumpkins from the patch, to our weigh-in station, and finally to your car (please remember to return the wagons to their designated area, and do not leave them in the parking lot). Our Pumpkins are $0.39 a pound, and squash are $0.49 a pound.
back to top
Gift Shop (a.k.a the Christmas Shop)
Check out our huge selection of harvest-season decorative items! We have large and small hay bales, corn stalks, hard-shell gourds, Indian corn, and corn stalk wreaths. We have a nice assortment of seasonal gifts, including Christmas, and children's items are available.
We offer:
A 5-acre corn maze and maze game
Hayrides that tour our Christmas tree fields
A large variety of pumpkins and squash, in all shapes and sizes
Bonfires for roasting hot dogs and other light refreshments
Harvest play-area and picnic areas
A wide selection of decorative crafts, hard-shell gourds, cornstalks, Indian corn, and delicious popcorn
Other Products and Services:
Visit with our Nigerian Dwarf Goats and Miniature Donkeys
Restrooms (handicap accessible)
Tours for school groups and private parties
back to top