Fall Frenzy Days
Fall Frenzy 2021 begins September 17, 2021.
Fall is the perfect time to bring the whole family to the farm when the autumn landscape is ablaze with God's masterful handiwork. Have a leisurely day enjoying family-oriented activities and make a visit to JB Tree Farm Fall Frenzy Days a traditional part of your fall celebrations!
We will be open weekends and weekday afternoons beginning Friday, September 17, 2021, through Sunday, October 31, 2021. Additionally, this year we will also be open the following weekend, Friday, November 5 to Sunday, November 7. Groups interested in a private party or school group tour, please call for availability at 814-832-3430 or email bookhammer@aol.com. For more details on parties or more information about group discounts, visit our Parties and Tours page, here.
FALL FRENZY HOURS
Monday - Thursday: noon - 5pm
Friday: noon - 10pm
Saturday: noon - 10pm
Sunday: noon - 7pm*

*After the return to standard time, closing time Sunday will be 6pm.
Please remember that our activities will end at closing time. When planning your fun at JB Tree Farm, be sure to come early enough to allow 30 minutes for the last hayride, or up to an hour for the last maze, or an hour and a half BEFORE closing time if you want to complete both activities.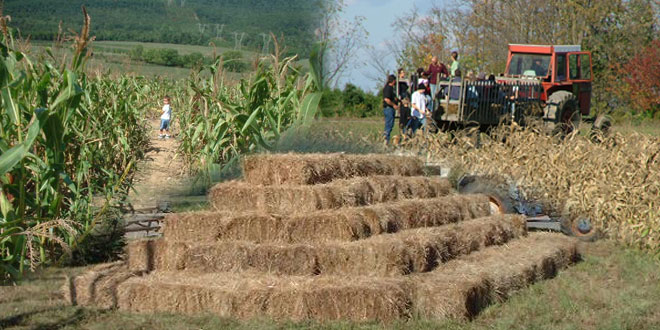 Admission fees are:
Regular (ages 10-61): $12.00
Senior (ages 62 and older): $8.00
Junior (ages 4-9): $8.00
Munchkin (ages 3 and under): FREE
This includes unlimited use of the Corn Maze, Hayride, Play Area, and public fire. You simply have to present your wristband (on your wrist) at the entrance to these three areas. The Christmas shop and Pumpkin Patch are open to the general public.
Corn Maze
Test your sense of direction in our 6-acre Corn Maze. Navigating the Corn Maze can take you anywhere from 45 minutes to two hours. We create a new design every year for the maze, so you'll never walk the same path from year to year. Should you need assistance in finding the exit, our friendly employees are happy to assist you. You can also call our Christmas Shop (814-832-3430) and we can contact one of the workers to find you, or someone from your party. Our maze is wide enough to accommodate strollers and wheelchairs.
The Maze Game
This year's Maze Game will involve a challenging quiz where the answers can be found only in the maze. Please bring a writing utensil! Of course, if you don't have one, will provide something.
The 2018 maze design honored and celebrated the life of Jerry Barker, the founder, along with his wife Eleanor, of JB Tree Farm. Born June 21, 1918, Jerry passed away three months shy of his 100th birthday. It had a pipe organ (like the one Jerry and his helpers removed from the Presbyterian Church in Williamsburg and reassembled at the Presbyterian Church in Alexandria), bass and tenor clefs, a bass violin (Jerry played for years), a B-24 bomber (Jerry flew one on 25 missions in WWII), a Q2 airplane (Jerry and his son-in-law Hal Grove built one), a fish (Jerry loved to fish), and a mill stone (Jerry had Keystone Milling in Williamsburg for many years). All these were a part of Jerry's life as, according to the Morrison's Cove Herald, "the most interesting man in Williamsburg."
MOONLIGHT MAZES!!
Nighttime maze tours and hayrides are open until 10 pm. Our late hours on Fridays and Saturdays are the perfect opportunity to test your navigation skills by touring our maze at night. No scares included! Bring an operating flashlight for this activity or purchase one here; we also have batteries available. A bonfire, s'mores, and hot dogs will be available for weenie roasting!
back to top
Hayrides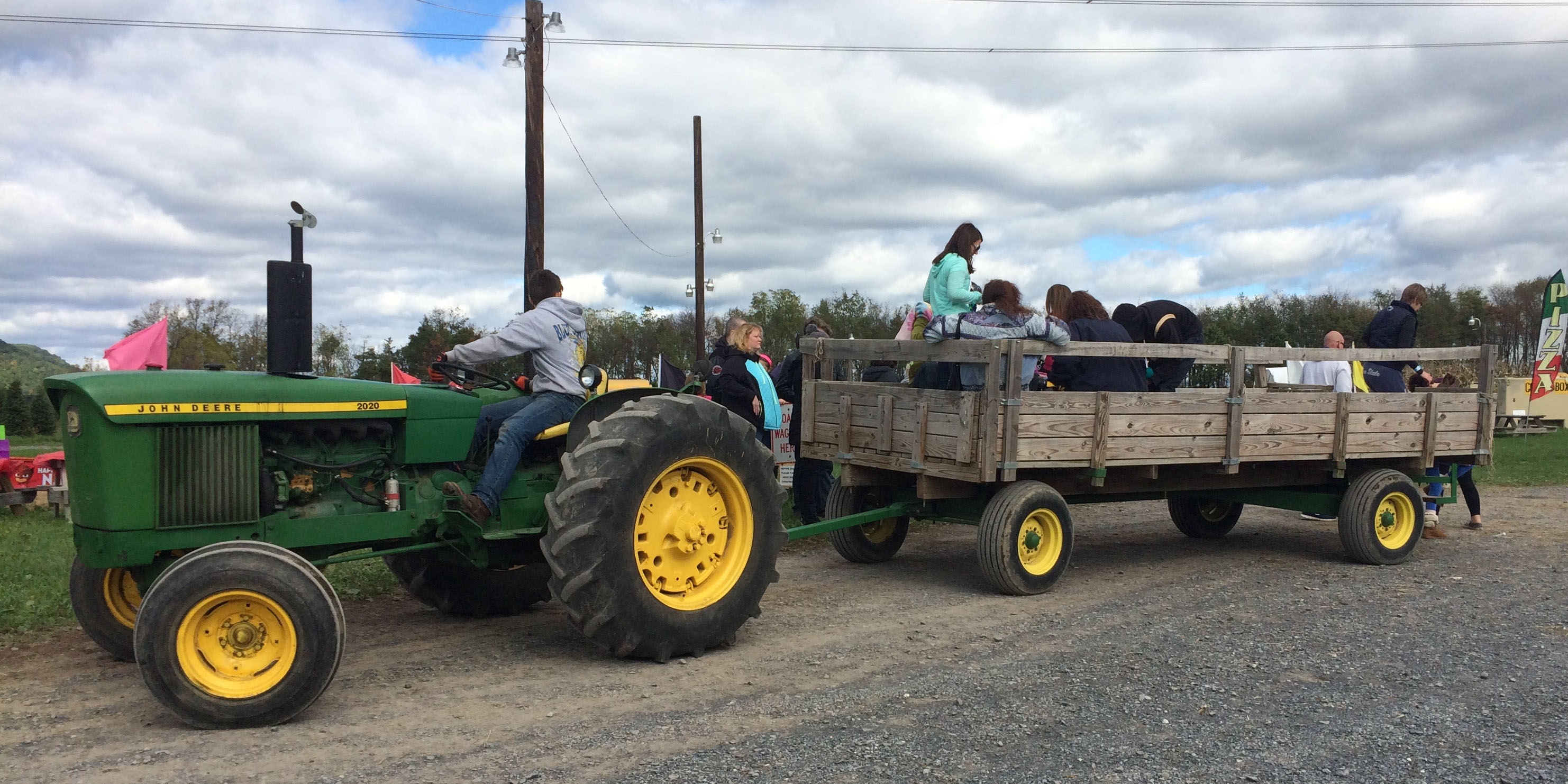 Enjoy God's creation as you take a relaxing ride on one of our wagons. Tour the fields of Christmas trees from the comfort of the Hayride and catch a glimpse of our cows and their offspring, and possibly other wildlife. Admission to the Hayride is included in the wristband price. You can ride as many times as you want with the wristband. Please remember to be courteous to other customers by leaving the wagon at the end of your ride and go to the end of the line. If there is no line, please feel free to stay on.
Harvest Play Area
Our Play Area is perfect for the young and young at heart! The Play Area includes a fantastic hay pyramid, a boat, a climbing fort with a slide, a wooden train, a tire snake, a playhouse, a rocket climbing slide, a short school bus, and a wooden ship complete with slide, ladder, ramp, ship's wheel, fireman's pole and two trapeze bars. A tetherball is located by the barn at the public fire area.
Pumpkins and Squash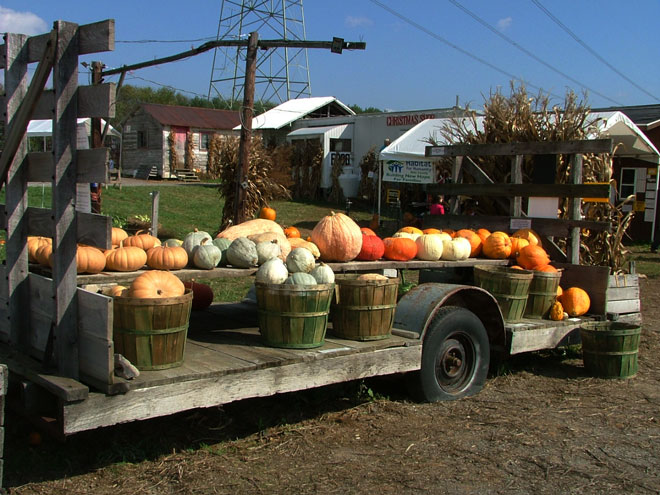 Pick your perfect pumpkin from our HUGE pumpkin patch! We also have small pumpkins, gorgeous gourds, colorful delicious squash, and hardshell gourds. We provide wagons for you in which to wheel your pumpkins from the patch, to our weigh-in station, and finally to your car. Please remember to return the wagons to their designated area, do not leave them in the parking lot. Our larger, carving sized pumpkins and squash are sold by the pound; and smaller, decorative varieties are sold by the piece.
back to top
Christmas Shop
Check out our huge selection of harvest-season decorative items! We have large and small hay bales, corn stalks, hard-shell gourds, Indian corn, and corn stalk wreaths. We have a nice assortment of seasonal gifts, including Christmas, and children's items are available.
We offer:
A 6-acre corn maze and maze game
Hayrides that tour our Christmas tree fields
A large variety of pumpkins and squash, in all shapes and sizes
Fire for roasting hot dogs and other light refreshments
Harvest play-area and picnic areas
A wide selection of decorative crafts, hard-shell gourds, cornstalks, Indian corn, and popcorn to decorate or pop at home
Other Products and Services:
Visit with our Nigerian Dwarf Goats and chickens.
Restrooms (handicap accessible)
Tours for school groups and private parties
back to top